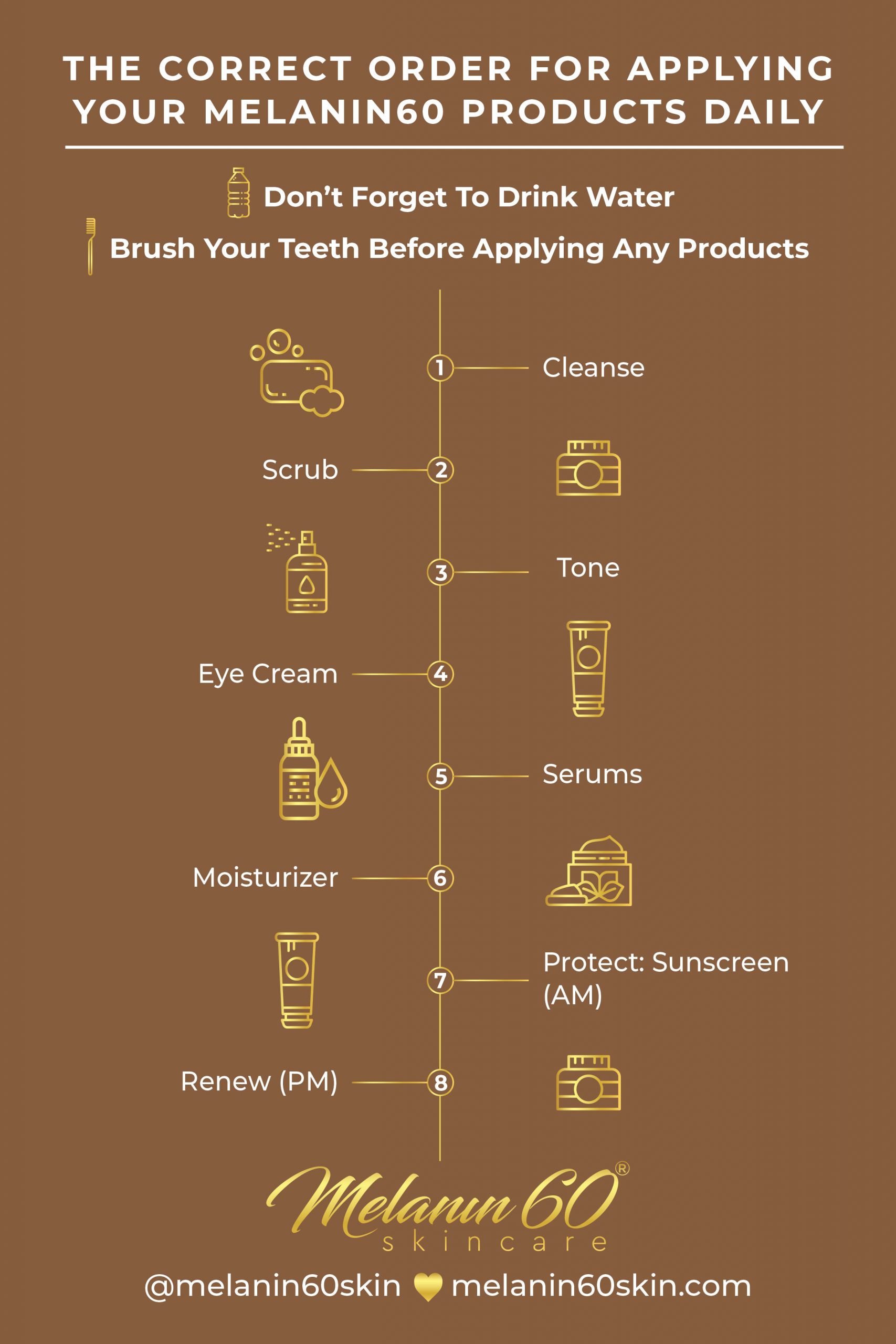 What is your processing time?
Our processing time is 24-48 hours. Once processed, you can expect your Melanin60 goodness within 4-7 business days in the U.S.
Do you ship internationally?
What shipping carrier do you use?
Because we'd like to be efficient in getting your products on time, we explore all options with USPS, UPS & FedEx at this time.
Is your shipping free?
Yes on all orders $40 or more. 
How do you calculate shipping?
Your shipping is calculated based on weight.
What about returns and exchanges?
You may return the item(s) to us within 30 days of your purchase for a full refund or exchange. Items must be returned in original condition and original packaging (manufacturer's box, plastic bags, etc) accompanied by receipt or proof of purchase. Return shipping costs will be the responsibility of the customer unless the return is the result of an error by us here at Melanin60 Skincare. Please note that the original and return shipping and handling charges will NOT be refunded or reimbursed under any circumstances. Refunds will be issued to the original form of payment.
What forms of payment do you accept?
Apple Pay, Paypal and all major credit/debit cards.
Why don't my products look the exact same as the last order?
Please keep in mind that the products you are buying are handcrafted, using high-quality ingredients, so they tend to have variations from batch to batch (slight changes in color for example).
Our Customer Service Goal
Any emails we receive will be responded to within 24-hours or we will send you a free product of your choice, no questions asked. (No Kits Included)
Where are your products produced?
Right here in the U.S., handcrafted with LOVE out of Atlanta.
You said these products are for all skin types?
We formulated our products for all skin types, yes.
But, we aren't Dermatologists so please consult your doctor with the list of ingredients found on our site if any concerns for you come up.
How should I store my products?
Please store away from direct sunlight and heat. Preferably in a cool, dry place.
Is all of your packaging recyclable?
Yes, all of our glass jars are eligible for our recycle program. 99% of our products are distributed in glass jars. 
Where can I recycle my jars?
Those details will be available soon.
Why should I recycle my Melanin60 Skincare jars with you?
Well, you did get them from us. Lol, all jokes aside, it gives us an opportunity to do our part by not disrupting our planet even further with garbage. Plus, we give you discounts when you return your jars to us.
How are you protecting orders with COVID19?
All of our packaging jars are sanitized before shipping.
Are your products FDA Registered?
All of our products are manufactured in the USA all of our ingredients feet the stringent FDA guidelines for skin-care while constantly monitoring to ensure no harmful or unknown ingredients enter any of our products.
Disclaimer: Our product statements have not been evaluated by the Food and Drug Administration. Our products are not intended to diagnose, treat, cure, or prevent any disease.
Where should I stor my products?
All products should be stored in a cool, dry place. 
DON'T MISS A THING!
Subscribe to our Newsletter