or 4 installments of $2.49 by
More info
Aluminum-Free Soothing Deodorant
The Melanin60 Skincare Soothing Deodorant is a clean and smooth refreshing deodorant, free of aluminum all of those other nasty chemicals and ingredients that we can't pronounce. Hand-crafted with all-natural goodness, that actually works. Some of our ingredients fend off bacteria-causing odor, while others moisturize your underarms leaving them smelling fresh. No residue. no white marks. Don't worry, sweating is normal.
Natural Deodorant Detox Guide
Please spot test before use.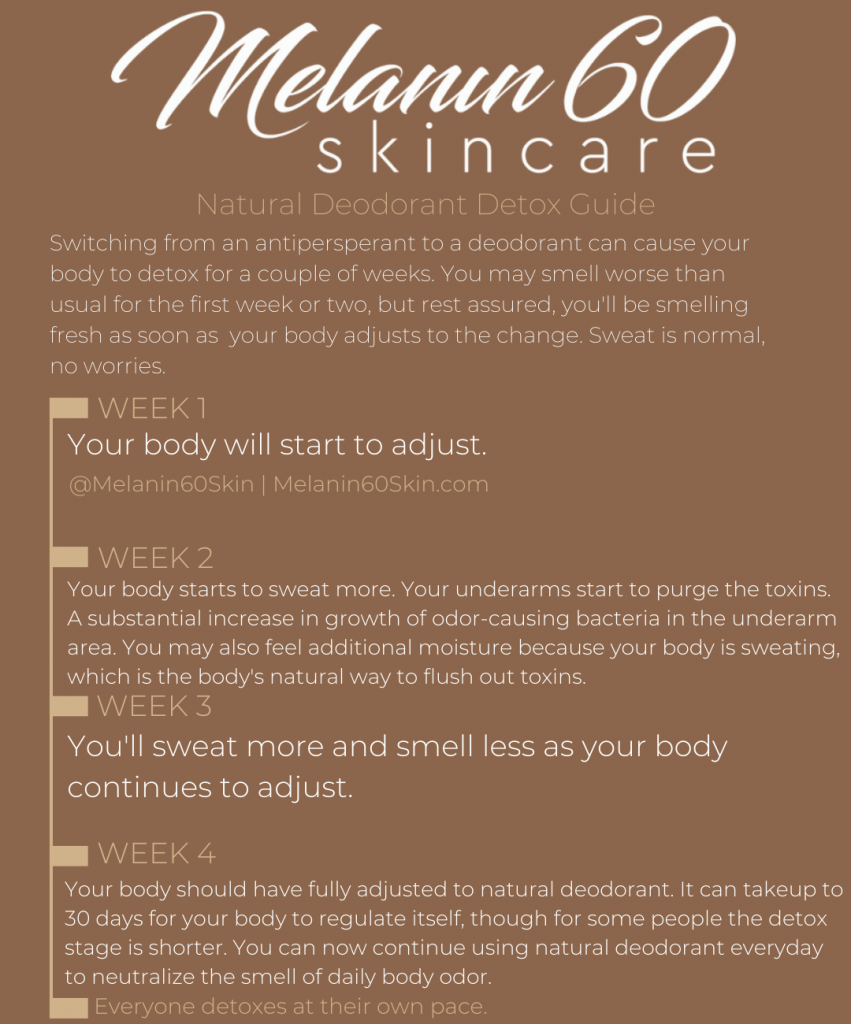 Melanin60 Secret Sauce
Virgin Organic Unrefined Shea Butter: Organic Shea Butter is a superior moisturizer, containing remarkable healing properties for various skin ailments as it contains several natural anti-inflammatory agents. It penetrates deeply into the epidermis and leaves a smooth, satiny finish. With consistent use, you will experience softer, more resilient skin as well as smoother skin and a softening of fine lines and wrinkles. Packed with vitamins A, D, E, and F — which boost collagen production.
Unrefined Cocoa Butter: The fat in cocoa butter forms a protective barrier over the skin to hold in moisture. Cocoa butter is rich in antioxidants, which help repair damage to the skin caused by free radicals. Free radicals can induce skin aging. Cocoa Butter is also a popular treatment for scars and stretch marks.
Sunflower Seed Oil: Sunflower seed oil is a great source of vitamin E, rich in nutrients and antioxidants, and is effective for combatting skincare issues like acne, inflammation, general redness and irritation of the skin. Sunflower oil has emollient properties that help the skin retain its moisture.
FAQ
I smell even worse, what's going on?
This is totally normal! Your body will take 1-6 weeks to fully detox all the toxins from your old deodorant, that's what you're smelling. Most people notice the odor dissipates within 1-3 weeks.
How can I speed up the detox?
Drink more water. Check your diet – eats lots of clean, organic fruits + vegetables. Get sweaty and hit the sauna!
Ingredients
Organic Butyrospermum Parkii (Shea Butter), Arrowroot, Tapioca Starch, Corn Starch, Chondrus Crispus (Irish Moss), Euphorbia Cerifera (Candelilla Wax), Theobroma Cacao Seed Butter (Cocoa Butter), Cocos Nucifera (Coconut Oil), dl-Alpha Tocopheryl Acetate (Vitamin E) Green Tea, Simmondsia Chinensis (Jojoba Oil), Sunflower Oil, Citrus Medica Limonum (Lemon Peel), Tea Tree Oil, Natural Baby Powder Scent, Aluminum Free & Organic Baking Soda.